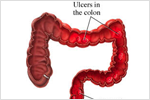 Ulcerative colitis is an inflammatory bowel disease (IBD) that causes long-lasting inflammation in part of the digestive tract. It usually affects the lower section (sigmoid colon) and the rectum. It occurs only through continuous stretches of your colon .But it can affect the entire colon. In general, the more of the colon that's affected, the worse the symptoms will be. Ulcerative colitis can be debilitating and sometimes can lead to life-threatening complications. Because ulcerative colitis is a chronic condition, symptoms usually develop over time, rather than suddenly.
The main symptoms are: Belly pain or cramps, Diarrhea &Bleeding from the rectum. Some people also may have a fever, may not feel hungry, and may lose weight. In severe cases, people may have diarrhea 10 to 20 times a day. The disease can also cause other problems, such as joint pain, eye problems, or liver disease. In most people, the symptoms come and go. Some people go for months or years without symptoms (remission). Then they will have a flare-up. About 5 to 10 out of 100 people with ulcerative colitis have symptoms all the time.
If affected patients desire to get cure from this disease, effective therapies are available that may dramatically reduce the signs and symptoms of ulcerative colitis and even bring about a long-term remission. Proper food and proper Sleep is also essential.