WONDER / TENDER COCONUT WATER
"It's a natural isotonic beverage with the same level of electrolytic balance as we have in our blood. It's the fluid of life".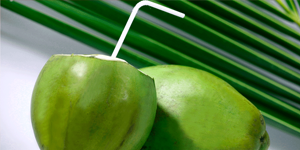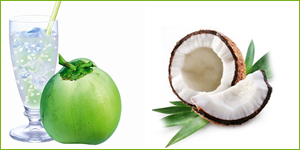 Coconut water is the juice of young tender coconuts and is a natural sweet energy drink ingratiating, promoting proper digestion, and naturally helps clearing our urinary paths, and lubricating our body systems. It is delicious, refreshing and very nutritious and has tremendous health benefits. It technically is the liquid endosperm. It is one of the purest, most nutritious wholesome waters and beverages with which The Creator has provided us. It can be used to refresh, refuel, re-hydrate, feed and maintain the proper nourishment and fluid levels in their bodies. It has a caloric value of 17.4 per 100 gm. The benefits of it are endless and should be an essential part of any healthy diet. It cures malnourishments also!
Low in Fat, 99% Fat Free & low in natural occurring sugar. Keeps the body cool and at the proper temperature. Effective in the treatment of kidney and urethral stones. Natural drink for feeding infants suffering from intestinal disturbances. Excellent oral re-hydration medium, an all natural isotonic for all ages. Presence of saline and albumen makes it an excellent drink in cholera cases. Aids in the quick absorption of drugs and makes their peak concentration into the blood stream easier because of its electrolytic effect. Excellent tonic for the old and sick
Found as a blood plasma substitute because it is sterile, does not produce heat, and does not destroy red blood cells and is readily accepted by the body. Kills intestinal worms and increasing semen.
Excellent natural water to drink while Relaxing, Meditating, Driving, Eating, Running, Aerobics, Working, Skipping, Mountain Biking, Exercising, Body Building, Fishing, Snow Boarding, Working Out, Surfing, Physical Activities, or Exertion of any kind. Aid the body in fighting viruses that cause the flu, herpes, and AIDS. Helps prevent osteoporosis. Application on the body prevents prickly heat and summer boils and subsides the rashes caused by small pox, chicken pox, measles, etc. Helps eradicate eczema.
Helps control diabetes. Promotes bowel movements & thyroid function. Helps eliminate pinworms. Used in cancer therapy. Helps kill the parasite Giardia Lamblia. Provides quick energy. Relieves stress on pancreas and enzyme systems of the body. Helps in gallbladder & liver diseases. Helps eliminate Candida yeast infections. Inhibits the growth of mycoplasma. It can be an integral part of any healthy diet. It is a natural energy drink. No need for drinks like Gatorade or Powerade. Replace them with the healthy alternative that is coconut water. Can also be injected intravenously in emergency cases.
Sugars in the forms of glucose and fructose form an important constituent of the tender nut water. The concentration of sugars in the nut water steadily increases from about 1.5 % to about 5 - 5.5 %in the early months of maturation and then slowly falls reaching about 2 % at the stage of the full maturity of the nut. In the early stages of maturity sugars are in the form of glucose and fructose (reducing sugars) and sucrose (non-reducing sugar) appears only in later stages which increases with the maturity while the reducing sugars fall. In the fully mature nut approximately 90 per cent of the total sugars is sucrose. Tender coconut water contains most of the minerals such as potassium, sodium, calcium, phosphorous, iron, copper, sulphur and chlorides. Among the minerals more than half is potassium the concentration of which is markedly influenced by potash maturing. Tender coconut water being rich in potassium and other minerals plays a major role to increase the urinary output. Coconut water contains small amounts of protein. Since it does not contain any complex protein the danger of producing shock to the patients is minimized.
Source : 1.COCONUT DEVELOPMENT BOARD, INDIA. 2.RAAHATH CHINESE ACUPUNCTURE HERBAL CLINIC & RESEARCH CENTRE, INDIA.